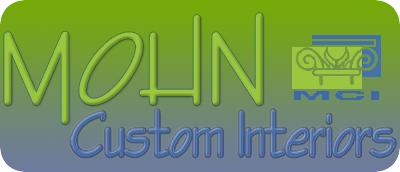 About US
Mohn Custom Interiors has been serving Springfield and surrounding communities with quality and excellent design sensibility since 1968.

Co-founder and current owner, Louis Mohn has always had the utmost interest in providing excellent quality and uniqueness in interior furnishings and has continually worked toward that goal.

Part of Louis's philosophy, which he considers critical to accomplish that, has been the operation of the Mohn Custom Interiors on premise workrooms for bed coverings, draperies, window coverings, upholstering and other unique projects. Operation of the Mohn Interiors workrooms allow for complete control over quality, scheduling and unique design and of course, good value. The complete process in creating items from the workroom is overseen and monitored for correct interpretation of design, by our craftsman, insuring that the unique ideas come to life for the customer and, as he admits readily, for himself.

Louis admits most times he is as excited about entering into, creating and finishing a project as the client or customer. He has remarked that, "After all these years, I am still amazed at the transformation of a space after the completion of a project! I have the best job in the world!".

Just as important are the suppliers we utilize for flooring, lighting, furniture, fabrics and wall coverings, and accessories. The suppliers chosen by Mohn Custom Interiors provide, just as Mohn Interiors does, quality and unique design. And, let's not forget... good value.

Louis says, I like to draw from a client what he or she wants and build upon it to create an environment which is unique unto them. I certainly do not have a rubber stamp approach just to sell them things. Everything I suggest and create is to further the clients satisfaction.

Please contact us if you have any questions.

(217) 787-6257